Industrial parts washing machine KM 950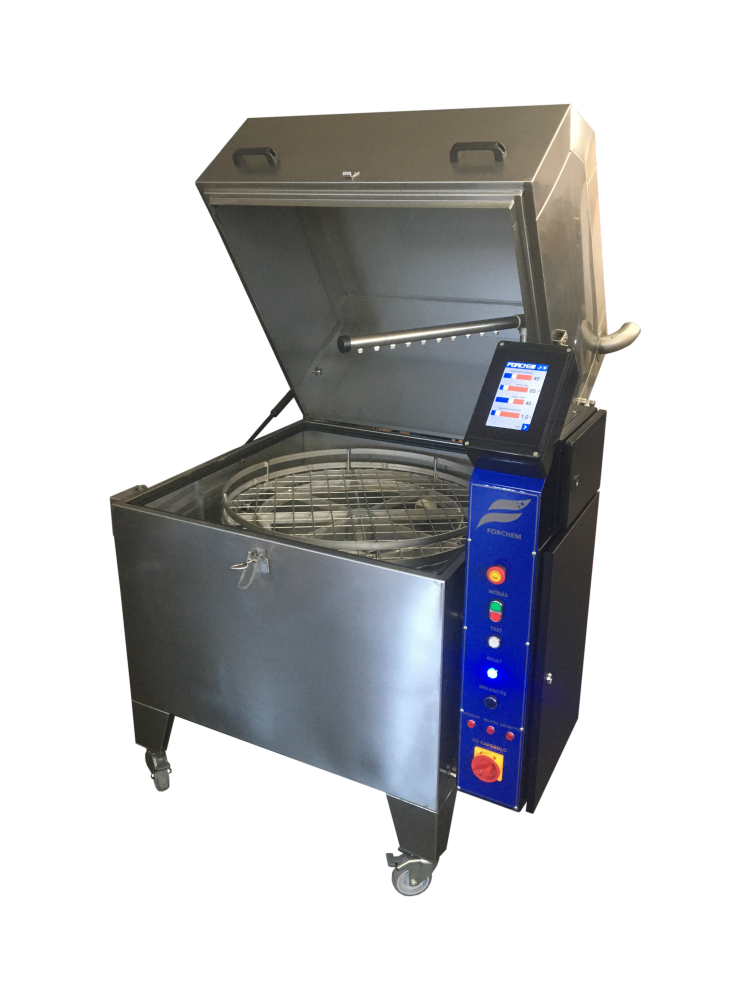 The FOCHEM parts washing machine is designed to wash dirty parts, components, jigs, tools, KLTs, etc. It is used in various areas of manufactures, industries and maintaince workplaces. The machine is fully made from stainless steel including washing arm, basket, nozzles, electrical switchboard. Stainless steel washing pump with solid seal. Indirect electric heating with a temperature setting from 30 up to 90 °C. Electronic timer. Protection against dry running for pump and heating. Blocking of operation when the hatch is open. Protection plates against hot steam. Filter baskets. Washing pump suction protected by filter. Washing basket is driven by an electronic transmission in all models. In our company portfolio you can find the washing machines that wash parts from the smallest size to large size parts, currently operated in hundreds of companies in Slovakia and abroad. Our satisfied customers range is from small manufacturers to market leaders. The goal of manufacturing these devices is to gain the client's confidence to offer the most appropriate solution. We offer our customers professional consultancy in the field of washing, delivery, installation and service of selected washing devices.
High-quality device for parts washing is guaranteed by first-class components. The whole washing machine is made from stainless steel. Solid construction of washing basket is constructed for a heavy duty even in the smallest models of washing machines. We use electronic components from the most renowned brands in this sector. The performance of the washing machines and the dimensions of the cleaning zone can be adapted to the customer's requirements. Together with a large selection of optional accessories, we can produce a washing machine according to your requirements. Simple operation, low maintenance, trouble-free operation and long life are the basis of customer satisfaction.
---
ADVANTAGES OF THE DEVICE:
Made of 304 AISI stainless steel
AISI 304 K stainless steel pump
AISI 304 K stainless steel tank
Mechanical rotating basket
Fully automatic wash program
Operating temperature up to 90 ° C
Washing time setting
Washing temperature setting
Design for heavy duty conditions
Easy to use
Easy maintenance
STANDARD FEATURES:
AISI 304 L / 1.4301 stainless steel frame
AISI 304 L / 1.4301 stainless steel tank
Stainless steel pump AISI 304 L / 1.4301
Operating temperature up to 90 ° C
Mechanical rotating basket
Pump with special mechanical seal
Reinforced washing basket
Washing basket operated from the side
Door security system
Anti-vibration surface
Easy maintenance
Fault warning control panel
Galvanized pipe installation
AISI 304 L / 1.4301 stainless steel nozzles
Stainless steel filter on pump inlet
Filter panel under the basket
AISI 304 stainless steel heater
Protective level meter
Time controller
Temperature controller
Emergency button
CE certificate
Full protection against electric shock
---
---
TECHNICAL DATA OF FORCHEM KM 950

Dimensions

900 x 900 x 1200 mm

Washing basket diameter

800 mm

Max. height of the object to be washed

500 mm

Max. weight of the object to be washed

200 kg

Max. weight of the object to be washed

100 L

Time of washing

0 - 60 min.

Max. temperture of washing

85°C

Pump power

1,1 kW

Heating power

6 kW

Washing arms

1 pcs

Voltage

380V 50 Hz

Total power

9 kW
---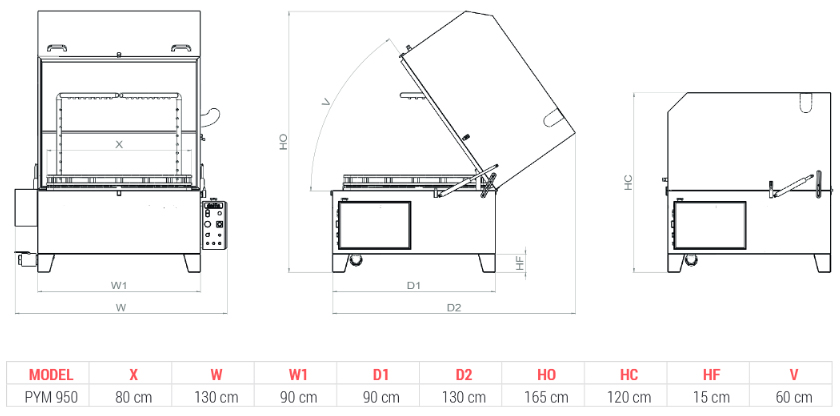 ---
Photogallery of - Industrial parts washing machine KM 950